Clutch is a component in the engine that helps to engages and disengages power from the engine to the transmission in order to change gears in manual transmission motorcycles. In short it enables the rider to turn on or off power to the rear wheel to change gears.
To deliver high quality products for a better vehicle performance NITERRA INDIA PVT. LTD. is launching Clutch Plate for 2Wheeler Motorcycles under NTK brand.
Type – Dry type Cork based (Non Asbestos)
Application – Motorcycle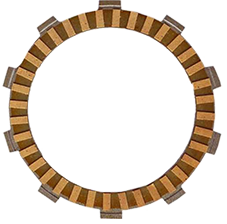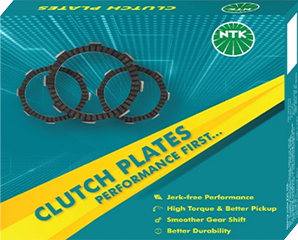 SYMPTOMS OF A FAULTY CLUTCH PLATES
It is always advised to check & replace the clutch plates in case your vehicle shows the below symptoms.
Excessive throttling/ acceleration.
Excessive fuel consumption.
Unusual noise and vibrations.
Slipping of clutch or kick gets free.
Hard to shift gears.
Burning smell, etc.
Features
Advantages
Benefits
Aluminum ADC-12 alloy
- Superior Strength & Hardness(Less wear & tear)
Better durability (long life)
- Superior Thermal conductivity(High heat resistance)
- Better friction b/w the plates
- Jerk free performance
- Smoother gear shift
- High Torque, Better Pickup & More Mileage
- Minimizes kick slip & vibrations on clutch lever
- Better riding experience
Asbestos free friction material
- No serious health hazard
-Meet OEM standard
- User (mechanic) health friendly